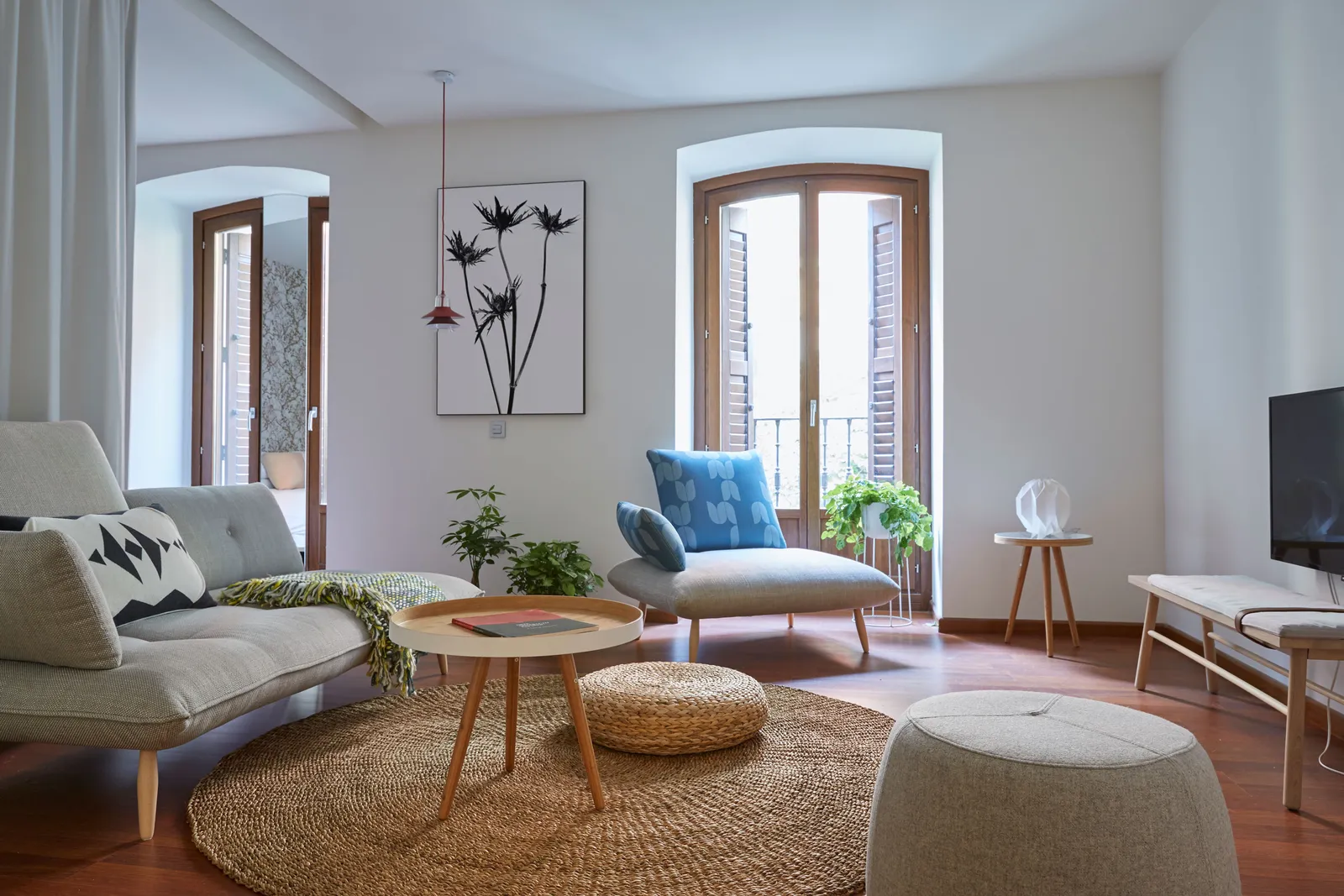 Winter plans: everything we want to do, eat, drink and buy
Winter is here, let's welcome it with all these appetising plans.
The cold is here and to combat those grey days, here are some winter plans to welcome you with the best face. Because there's nothing better than treating yourself to something nice. New clothes for your wardrobe, treats to try and, of course, taking care of your well-being….
60 BALCONIES: JUST LIKE AT HOME, BUT IN MADRID!
With more than ten years of experience, 60 Balconies is one of the references of tourist accommodation in the capital and has just incorporated its third building. The brand has 57 tourist flats in the districts of Atocha, Justicia and Cedaceros.
In all its accommodation, comfort is combined with an interior design and architecture that is representative of the
architecture for which Studio 3 1 1 is responsible.
His career began in 2010 with 60 Balconies Art, followed by 60 Balconies Design in 2014. His latest project is located at Calle Cedaceros 6 and takes its name from 60 Balconies.
Icon, the most important icons of the city, including the building.
On the ground floor of 60 Balconies Iconic is the Ticui restaurant of the Mexican group Puntarena, which has also moved to the seventh floor where, in addition to the swimming pool, there is also a bar where you can enjoy the best Mexican-style cocktails.
SOROLLA YEAR
On 12 January, coinciding with the start of Sorolla Year – 2023 marks the 100th anniversary of Sorolla's death and 160th anniversary of his birth -, How to Change Your Life with Sorolla will be published, a unique work in which César Suárez combines biography, essay and fiction to offer a bold vision of Joaquín Sorolla and his time. A journey through scenes from the artist's life that answers questions such as: Where did his talent come from? How was his character formed? What was the Spain he saw and captured in his paintings like? How did he manage to maintain his love for his wife from his youth?
COSMETICS IN TUNE WITH THE PLANET
Rowse, the cosmetics company founded by Nuria Val – photographer, tireless traveller and Condé Nast Traveler contributor – and Gabriela Salord – cosmetics marketing expert – is a tribute to nature.
"We believe that respect for our planet and for all the people who inhabit it requires a continuous process of improvement. That is why our ecological vocation is subject to constant changes and readjustments in order to consolidate our position as the most ethical and conscious beauty option. Our aim is to minimise our impact on the environment," explain the creators of Rowse, accompanied by pharmacist Lamia El Kadiri, to realise their ambitions.
All ingredients come directly from nature and are processed as little as possible. They are organic, vegan and cruelty-free.
LOVE FOR PERSONALISED MOCCASINS!
Comfortable, elegant, made in Spain and personalised. Sumissura moccasins are made with high quality Italian and Spanish leather. They can be easily customised according to the customer's stylistic needs using the brand's online 3D designer.
After the great success of their customised textile collection, Sumissura ventured into the world of footwear and we fell in love with their moccasins. Comfortable, stylish, made in Spain and for all tastes! The moccasins can be easily customised according to the client's stylistic needs, thanks to the brand's online 3D designer.
In addition to moccasins, you can design your own oxford shoes and even boots, and each piece can be made of a different material!
INSPIRING ENVIRONMENTS
Veluto is a concept shop in San Sebastian that focuses on the world of interior design and decoration. The designer Iñigo Iriarte creates atmospheres where time seems to stand still and where the ideas of the past are projected into the future.
Ad hoc kitchens for each project, furniture with character, spaces that coexist between the past and the future, a niche perfumery… Veluto is eclecticism in distinction, where simplicity and luxury, the everyday and the exclusive combine harmoniously to facilitate the creation of unique and singular spaces.
A RETREAT TO RECONNECT WITH THE AZORES
Wellness enthusiasts will find the perfect retreat at Lava Homes, a complex of 14 luxurious volcanic stone houses on the tranquil island of Pico, which has prepared its first edition of weekly programmes dedicated to the absolute care of the spirit from January to May 2023.
The Lava Homes wellness stations range from meditation to shamanic journeys, from yoga to osteopathy, from gyrokinesis to tai chi, from sound healing to Ayurveda, from nature walks to chocolate therapy…. in short, 15 different five-day programmes created especially for the occasion with professionals who will always be in communion with an island where silence reigns.
THE NEW AWAVEAWAKE COLLECTION
AWAVEAWAKE is not only a tribute to nature, but a declaration of love shouted from the rooftops. Founded in 2012 by creative director Jaclyn Hodes, the brand has opened the door to luxury fashion dyed with plants.
It is produced entirely in Bali and uses local tropical plants to create soft, warm colours. The shapes are inspired by minimalism, relaxed, flowing lines that take us away from rigidity and light, fresh fabrics that transport us directly to the island of Indonesia in eternal spring. A breath of fresh air transformed into fashion.